Don Harrington Discovery Center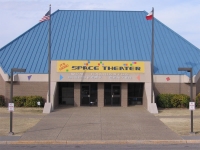 Don Harrington Discover Center © Who What Where Nguyen Why
Focusing on physical, earth and life sciences, the Don Harrington Discovery Center is set in a 51-acre park with a lake and picnic area. The centre boasts more than 100 hands-on activities and a recently renovated Space Theater. There is also an aquarium on site featuring both saltwater and freshwater tanks as well as a botanical garden. Most popular sights here are a Foucault Pendulum, rotating independently of the earth's gravitational pull, a helium technology exhibit and a weather-watch section with a tornado machine.
The centre was recently renovated and now includes several permanent exhibitions: Hunters of the Sky, focused on birds of prey: Amazing Bodies, all about the wonders of life and living bodies: Planetary Landscapes, an interactive exhibit that makes planetary weather systems and galactic motion more understandable: and Bounce, an examination into the physics and maths behind round shapes.
A focus of all the exhibitions and the center as a whole is hands-on learning, allowing students and children to touch displays and interact with them in ways that are valuable to the learning process. The centre runs summer camps as well as so-called Parents' Night Out on Friday nights, when parents can leave kids to learn and play for a few hours.
Address: 1200 Streit Drive
Website: www.dhdc.org