Don Harrington Discovery Center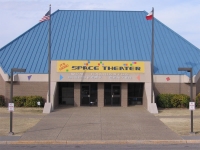 Don Harrington Discover Center © Who What Where Nguyen Why
Focusing on physical, earth, and life sciences, the Don Harrington Discovery Center is set in a 51-acre park with a lake and picnic area. The centre contains more than 100 hands-on activities and a recently renovated Space Theater. There is also an aquarium on site featuring both saltwater and freshwater tanks, as well as a botanical garden. The most popular sights here are a Foucault Pendulum, rotating independently of the earth's gravitational pull, a helium technology exhibit, and a weather-watch section with a tornado machine.
The centre was recently renovated and now includes several permanent exhibitions: Hunters of the Sky, focused on birds of prey, Amazing Bodies, all about the wonders of life and living bodies, Planetary Landscapes, an interactive exhibit that makes planetary weather systems and galactic motion more understandable, and Bounce, an examination into the physics and maths behind round shapes.
The centre runs summer camps as well as so-called Parents' Night Out on Friday nights, when parents can leave kids to learn and play for a few hours.
Address: 1200 Streit Drive
Website: www.discoverycenteramarillo.org
Telephone: +806 355 9547
Opening times: Tuesday-Saturday 9.30am-4.30pm, Sunday 12pm-4.30pm, closed Monday.
Admission: $11 adults, $8 children, other concessions available.