Choeung Ek (The Killing Fields)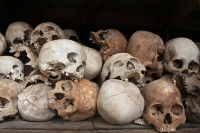 Skulls at Choeung Ek © istolethetv
The Cambodian genocide during the late 1970s ranks as one of the great horrors of modern history. Under Pol Pot, an estimated 1.7 million people were either ruthlessly slaughtered by the Khmer Rouge, or died of starvation in the communal fields. Choeung Ek was the extermination camp where the prisoners from S21 (now the Tuol Sleng Museum) were executed. Also known as the Killing Fields, after the movie of the same name, this football-field-sized area contains the mass graves of about 20,000 people.
A tall Memorial Stupa has been constructed to commemorate the dead with more than 8,000 human skulls displayed behind the glass. At the entrance, a handwritten sign in Khmer and English summarises the atrocities perpetrated by the Khmer Rouge. As a reminder of the reality of this great tragedy, human bones are still frequently unearthed by heavy rains in the area, and many of the tour guides have personal stories to tell about their experiences during Pol Pot's reign. A visit to the Killing Fields is harrowing and perhaps not suitable for children, but remains one of the most popular tourist attractions in Cambodia.
Address: Just over nine miles (15km) southwest of Phnom Penh
Telephone: +855 23 305 371
Opening times: Daily 8am-5.30pm
Admission: $3 entrance fee per person, $3 per audioguide.