Palo Duro Canyon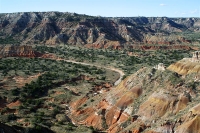 Palo Duro Canyon. © Leaflet
A million years ago a branch of the Red River carved a massive canyon through the northern Texas plains. The walls of the Palo Duro Canyon, meaning 'hard wood' canyon, named after the hardy juniper trees that grow in the canyon's sides, plunge down 1,000 feet (305m) at points, exposing the multi-layered coloured rock strata.
The Palo Duro Canyon State Park is a few miles east of Amarillo, reached via Texas 217 highway. The park offers picnic and camping facilities, a visitor's centre with a shop, an amphitheatre where shows are staged, and horseback riding trips.
The park is also home to a famous historic site where the last great battle between troops and Indians took place in Texas. In 1874 Colonel Ranald Mackenzie and his 4th Cavalry defeated a large band of Native Americans camped in the canyon and transported them to reservations in Oklahoma. Visitors can watch the park's longhorns being fed by rangers at appointed times every few days, and occasional educational talks are hosted by the park to educate visitors on various aspects of life in the canyon over the years.
Address: The park is located about 12 miles (19km) east of Canyon, on State Highway 217.
Website: www.tpwd.state.tx.us/spdest/findadest/parks/palo_duro/
Telephone: +806 488 2227
Opening times: Daily 7am-20pm
Admission: $5 adult, free for children.