The Orange Show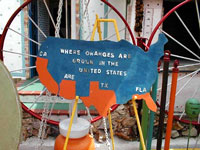 The Orange Show ©
For a touch of the bizarre call at the Orange Show to see how obsession can become art. A former postman spent 26 years of his life assembling a collection of weird and wonderful objects and meshing them together into a labyrinth of passages and staircases, almost all of it orange. The result is a quirky curiosity, which is billed as 'folk art', and has spawned the popular Art Car Parade, a city-wide parade of cars decorated in weird and wonderful ways.
Several other sites are included in the Orange show, such as the Beer Can House - a house covered entirely in so-called siding made from beer cans, and decorated with garlands made from beer cans. the house was covered i beer cans by a retired upholsterer, for fun. There is also currently another park under construction, called Smither Park, that will follow the aesthetics and philosophy of the Orange Show. The park is billed as Houston's first folk-inspired green space and will play host to city-dwellers' leisure time as well as personal ceremonies such as weddings. Public performances and shows are also planned for the space.
Address: 2402 Munger Street
Website: www.orangeshow.org
Telephone: (713) 926-6368
Opening times: Open most weekends 12pm-5pm.
Admission: $1