Sam Houston Historical Park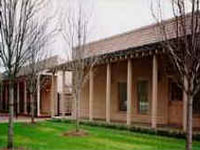 The Sam Houston Historical Park near the city's visitor centre in Bagby Street provides visitors with a large as life look at Houston history. The 19-acre park features seven of the city's oldest buildings that have been restored and relocated here.
The oldest building is a small 1823 cabin that originally stood at Clear Lake, while one of the more recent is the 17-room home built in 1905 for oil field pioneer Henry T. Staiti. Some of the other buildings located in the park are the 1847 Kellum-Noble House, the 1850 Nichols-Rice-Cherry House, the 1868 San Felipe House, the 1868 Pillot house, the 1891 St. John Church, the 1870 Yates House and the 4th Ward Cottage. Each building has been renovated and furnished to appear exactly as it would have when it was first erected.
The park itself was bough by a mayour of the city in 1900, and was carefully landscaped into a beautiful Victorian garden. Several sculptures and memorials are displayed permanently in the park, such as the Neuhaus Fountain, the Alexander Hodge Memorial, the World War I Memorial and the spirit of the Confederacy sculpture. Visitors to the park today can explore each of the houses as well as the garden
Address: 1100 Bagby Street
Telephone: (713) 655-1912