Bayou Bend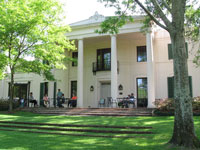 Bayou Bend Estate ©
The magnificent muted pink mansion in the marshy elbow of Buffalo Bayou in Houston's River Oaks area was the home of Miss Ima Hogg, a woman much loved in the community until her death in 1975, at the age of 93. Miss Hogg and her two brothers bought the woodlands estate in 1925 and for two years, before work on the mansion began, Miss Hogg worked on starting the gardens. Miss Hogg left her home and the gracious gardens that surround it as a legacy for the city.
The house contains a remarkable collection of Americana dating from 1620 to 1870 and is regarded as a cultural treasure, with several thousand objects displayed in 28 period room settings in the mansion. Miss Hogg designed the gardens as outdoor living rooms, fed by bayou waters, and today they continue to provide a peaceful oasis in the heart of the metropolis planted with indigenous species as well as exotics like azaleas, camellias and magnolias. Dedicated teams work on the gardens these days to preserve and enhance them, and amongst the improvements made is the garden's conversion into an entirely organic space. The gardens were the first 100 percent organic gardens in the state of Texas.
Address: 6003 Memorial Drive at Westcott Street
Website: www.mfah.org/bayoubend
Telephone: (713) 639-7750
Opening times: Tuesday to Saturday 10am-5pm, Sunday 1pm-5pm. Closed on Mondays.
Admission: $10. Admission to the gardens is $3. Concessions are available.