National Museum of Funeral History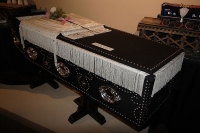 Funeral history to be explored at the National Museum of Funeral History © Rklawton
At Barren Springs near Houston's International Airport is the unusual private museum run by a major funeral company in the United States, dedicated to funeral memorabilia. It is the largest musuem dedicated to funerary practices in the Unites States, and probably the world.
Customs, rituals and traditions associated with burial from ancient Egypt to the present day are covered in this interesting institution. Highlights of the collection are restored horse-drawn and vintage automobile hearses, and a unique 1916 Packard funeral bus. The museum also features a gallery devoted to the funerals of the famous, containing memorabilia from the funerals of Elvis Presley, John F. Kennedy and Rudolph Valentino.
Some of the permanent exhibits that can be viewed at the museum are Celebrating the Lives and Deaths of the Popes, a History of Embalming, 19th Century Mourning Customs, Presidential Funerals, Tomb of the Unknown Soldier, Reflections on the Wall, Coffins and Caskets of the Past, Ghana and Fantasy Coffins and Japanses Funerals. The museum sponsors an annual gold tournament in May, as well as an annual Halloween Classic Car Show.
Address: 415 Barren Springs Drive
Website: www.nmfh.org