Texas State Capitol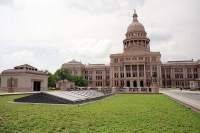 Texas State Capitol © Gerritcap
Austin's impressive pink granite capitol building is rivalled only by that of the US Capitol in Washington, DC. Encircled by its original wrought-iron fence topped with gold Lone Stars and standing proudly in a hectare (three acres) of ground, the domed building was constructed in 1882 out of granite quarried from Granite Mountain 75 miles (121km) away.
The design used the Renaissance Revival style and is an excellent example of late 19th century public architecture. The building was expanded with an added wing in 1993, and throughout the 1990's both the building and its park-like grounds were given extensive renovations and restoration work.
Events and exhibits are regularly hosted at the Capitol Building. Visitors can take guided tours of this interestingly designed building, or attend legislative sessions, which are open to the public. The grounds are also open to the public and are well worth a visit, filled as they are with seventeen monuments including those to the Heroes of the Alamo, Volunteer Firemen, Confederate Soldiers and Terry's Texas Rangers.
Address: Congress Avenue between 11th Street and 14th Street
Website: www.tspb.state.tx.us