Ladybird Johnson Wildflower Center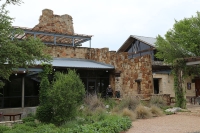 Ladybird Johnson Wildflower Center © Margaretwmiller
Texas hill country is renowned for its glorious spring blooms, and former First Lady, Lady Bird Johnson, founded this centre dedicated to the study and preservation of native plants in 1982. There are 72 hectares (178 acres) of wildflowers in display gardens, including a garden designed to attract butterflies. There are also some interesting indoor displays, and the centre offers free lectures and guided walks at weekends.
The centre's exhibition area hosts displays of artwork and photography inspired by nature, especially flowers. In 2006, the centre was made an Organized Research Unit for the University of Texas at Austin. A new feature at the centre is the Mollie Steves Zachry Texas Arboretum, where visitors are invited to learn more about Texas' trees all in an easy-to-navigate, compact space. The focus is on the Texas oak, but many other species are included.
Address: 4801 LaCrosse Avenue
Website: www.wildflower.org
Telephone: +512 232 0100
Opening times: Daily 9am-5pm
Admission: $10 adults, $4 children, other concessions apply.