Governor's Mansion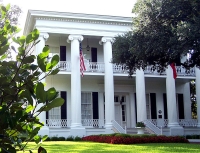 Governor's Mansion © Larry D. Moore CC BY-SA 3.0
The opulent plantation-style mansion home to the Texas State governor is one of the oldest buildings in the city, dating from 1856. Although it is still lived in when the governor is in town, the mansion is open to the public for limited hours each day and many historical artefacts are on display, including portraits of Davy Crockett and Sam Houston, and a collection of mementoes from each administration. The mansion has been recently renovated, guided tours are available, which offer interesting anecdotes about previous governors.
Address: 1010 Colorado Street
E-mail: mansion.tours@tspb.texas.gov
Website: www.txfgm.org
Telephone: +512 463 0063
Opening times: Monday to Friday 7am-10pm, Saturday to Sunday 9am-8pm.