Jack S. Blanton Museum of Art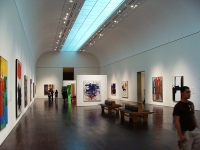 Jack S. Blanton Museum of Art © Zereshk
A major stop on national art circuit tours, the Blanton Museum of Art at the University of Texas in Austin is ranked among the top 10 university art museums in the country. Highlights here are the Suida-Manning Collection of European paintings featuring 250 works by the Continental masters, and the collection of 20th-century American Art assembled by novelist James A. Michener.
There is also a large collection of Latin American Art consisting of more than 500 key works. The permanent exhibitions on show at the museum include Stacked Waters by Teresita Fernandez, a piece of installation art in the museum's atrium. Changing exhibitions often have themes that focus on aspects of American history and scenery as depicted in art, as well as displays of current artists' work.
Address: University of Texas (at the intersection of Martin Luther King Jr. Boulevard and Congress Avenue)
E-mail: info@blantonmuseum.org
Website: www.blantonmuseum.org
Telephone: (512) 471 5482
Opening times: Tuesday to Friday 10am-5pm, Saturday 11am-5pm, Sunday 1-5pm, closed Monday.