Guadalupe Mountains National Park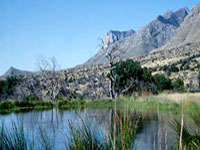 Guadelupe Mountains © National Park Service
The rugged wilderness of the Guadalupe Mountains in west Texas was originally a barrier reef under the waters of an ancient sea. Today fir trees and pockets of lush vegetation cling to this mountain range rising from the desert. Formerly the home of the Apache nation, the National Park is now occupied by hundreds of plant and bird species, 60 species of mammals and 55 varieties of reptiles and amphibians.
Visitors can traverse more than 80 miles (129km) of trails on foot or horseback, or take the 4WD route provided. There are several historic sites in the park including Frijole Ranch History Museum and the ruins of a stagecoach station. McKittrick Canyon in the northeast corner of the park is regarded as the most beautiful spot in Texas, where oaks and maples make a colourful display in fall. There is a Junior Ranger program available to keep children entertained. Horseback riding is allowed, although not provided by the park.
Website: www.nps.gov/gumo/index.htm
Telephone: Headquarters Visitors Center (915) 828-3251.
Opening times: The park is open year round. The Headquarters Visitors Center opens 8am-4:30pm.
Admission: $5 per adult for a seven-day pass.