Gateway Arch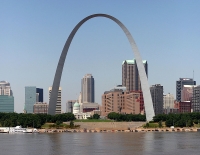 Gateway Arch © Fetchcomms
Within the riverside park known as the Jefferson National Expansion Memorial, the Gateway Arch is a soaring landmark above the city's skyline. The thin stainless steel arc reaches to twice the height of the Statue of Liberty, at 630 feet (192m) tall.
It symbolises the role of St Louis as the 'Gateway to the West' for the pioneers who journeyed along the Oregon and Santa Fe Trails towards the western frontier. It is also dedicated to the US president who was responsible for opening up the West.
An observation deck reached by a tram system provides magnificent views over the city, the Mississippi and the spreading plains. Also on the site with the Arch is the Old Courthouse Museum, the venue for the hearing of several momentous cases during the 19th century.
At the base of the monument is the excellent Museum of Westward Expansion, with exhibits covering exploration of the West and its honoured pioneers, including Lewis and Clark, the Plains Indians, and buffalo soldiers. The Odyssey IMAX Theatre shows big-screen films about the region and its history.
Website: www.gatewayarch.com