Forest Park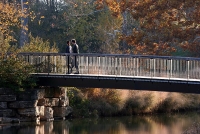 Forest Park © Matt Kitces
Larger than New York's Central Park, the beautifully landscaped Forest Park is filled with attractions. The acclaimed St Louis Art Museum has a magnificent international collection of art covering works from the prehistoric to the contemporary, housing one of the most extensive collections of German Expressionism worldwide.
The St Louis Science Center features life-size dinosaurs along with displays and interactive exhibits on the environment, aviation, technology and more. There is also an OMNIMAX Theatre and Planetarium.
Thousands of animals roam the beautiful grounds of the St Louis Zoo, with indoor and outdoor displays, and a Living World Exhibition features an animated robotic figure of Charles Darwin who summarises his theories on evolution.
The Missouri History Museum documents life in St Louis with old photographs and displays on river life, local music, and western expansion. Forest Park is brimming with natural beauty and fun diversions for the whole family and can easily occupy visitors for hours.
Website: www.forestparkforever.org