18th and Vine District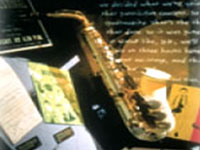 In the 1920s the neighbourhood of 18th and Vine was the heart of the jazz scene and today the museum complex houses the celebrated American Jazz Museum, the Blue Room Jazz Club and the Negro Leagues Baseball Museum. The Jazz Museum honours jazz greats like Louis Armstrong and Charlie Parker and visitors can experience the rich culture and history through dozens of exhibits and an interactive studio. The fascinating history of the Negro Leagues is documented in the Baseball Museum and exhibits, video presentations and memorabilia reveal stories about baseball stars like Buck and Paige.
Address: 1616 East 18th Street
Website: www.18thandvinedistrict.org
Telephone: (816) 871 3016 (Visitor Centre)
Opening times: Jazz Museum and Negro Leagues Baseball Museum: Tuesday to Saturday 9am-6pm; Sunday 12pm-6pm. Blue Room: Monday and Thursday 5pm-11pm; Friday 5pm-1am; Saturday 7pm-1am.
Admission: Jazz Museum and Negro Leagues Baseball Museum: $8 (adults), $3 (children), combo tickets also available.