Neptune's Grotto (Grotta di Nettuno)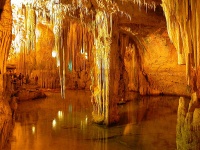 A popular sightseeing expedition from Alghero is a boat ride to Neptune's Grotto, an impressive deep marine cave at the bottom of the sheer cliffs of Capo Caccia. The boat ride takes about 45 minutes, and goes past the pretty Bay of Porto Conte. At the cave visitors can take a 45-minute tour entering through the long snaking passage that delves into the rock, to view dramatically-lit stalagmites and stalactites. The contrast of the sun sparkling bright on the sea and the orange cliffs with the mysterious dark depths of the cave is magical and sailing in through the gap in the cliffs is the best way to explore it; however, the grotto can also be reached by bus from the main terminal in Alghero, or by car, which on arrival necessitates climbing down 650 steps to the cave entrance. The cave entrance, from the sea, is only about a metre above the water level, so it can only be accessed when the sea is calm. Boat trips into the cave run regularly in summer and are very popular, but they are less frequent during the rest of the year. The cave takes its name from the Roman god of the sea, Neptune, and was discovered by local fishermen in the 18th-century. There are many underwater caves in the area, which makes it popular with scuba divers.
Address: Alghero
Transport: Boats depart regularly (especially in Summer) from the port in Alghero to Neptune's Grotto. It is also possible to reach the Grotto by road from Alghero to Capo Caccia.