Garibaldi's House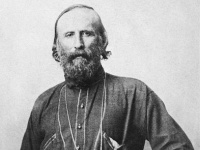 The famous Italian revolutionary, general and politician Giuseppe Garibaldi lived the last third of his life on the woody, undeveloped island of Caprera, a short ferry-ride from Palau on Sardinia. Garibaldi was a central figure in the Italian Revolution as he commanded and fought in many military campaigns that eventually led to the formation of a unified Italy. He famously led 1,000 Red Shirts on his campaign to conquer Sicily and Naples from Caprera in 1861. He is considered one of the 'father's of the fatherland' by Italians, and is also famous for his military campaigns in South America.
The trip to view Garibaldi's house and museum is very popular in season, with visitors queuing to catch one of the regular ferries to Caprera. Garibaldi came to live in Caprera in 1855 after a 20-year exile from Italy. The elegant homestead has been preserved as he left it and visitors can learn a lot about his lifestyle from exploring the farm; on Caprera he lived a simple, peaceful life tending his gardens and orchards. Tours of the property end with his tomb in the garden. There is a relic room filled with some of his personal belongings and historical artefacts. For many Italians and foreign visitors Garibaldi's house and grave are a sort of pilgrimage site, a place to pay homage to a national hero.
Address: Caprera Island
Website: www.compendiogaribaldino.it
Transport: Regular ferries run from Palau to La Maddalena, the main island in the Maddalena archipelago, from where it is possible to reach Caprera by a connecting bridge
Opening times: Open Tuesday to Saturday from 9am to 1.30pm, and 2pm to 6.30pm. Closed on Sundays, New Year's Day, 1 May and Christmas Day.
Admission: €4 (concessions available)