Galleria Regionale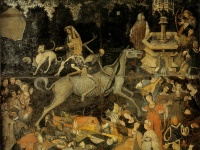 Palermo's largest art museum, devoted to medieval works, is housed within the Gothic-styled Palazzo Abbatellis (built in 1488). The collection is fascinating and includes several particularly interesting works. The Bust of Eleanor of Aragon by Francesco Laurana, for example, dates from 1471 and is considered to be the epitome of Renaissance Sicilian sculpture; while the beautiful masterpiece painting Our Lady of the Annunciation is considered Antonello da Messina's greatest work. Also renowned is the chilling Triumph of Death fresco by an unknown 15th-century artist that covers an entire wall. The art is wonderful but so is the building, and you get a good sense of the layout of the palace as you wander from room to room. Unfortunately, there are no audio guides and scant information at the gallery so it is best to bring your own research with you to appreciate what you are seeing. There is a library and a bookshop at the palace, and guided tours are usually available, but they tend to be in Italian only. The gallery has recently has irregular opening hours due to renovations so it is best to confirm opening hours in advance of your visit to avoid disappointment. No photography is allowed.
Address: Via Alloro 4, Palermo
E-mail: gall.abatellis@regione.sicilia.it
Website: www.regione.sicilia.it/beniculturali/palazzoabatellis
Telephone: +39 091 623 0011
Opening times: Open daily from 9am to 1pm; and on Tuesday, Wednesday and Thursday from 2.30pm to 7pm as well
Admission: €8 (Concessions €4).