Palermo's Regional Archaeological Museum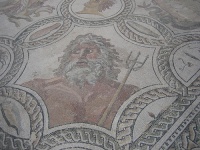 Some of Europe's greatest archaeological treasures are tucked away in Palermo's somewhat musty museum, which is well worth visiting even though it's rather shabby. It is arguably Sicily's most important museum and certainly one of the most notable archaeological museums in Italy. The collection is vast and is housed in several old convent buildings, the oldest of which dates back to the 13th-century, and includes artefacts from the Phoenician, Punic, Greek, Roman and Saracen periods found on the island. Highlights include two Phoenician sarcophagi dating from 5 BC, and the Pietra di Palermo, a black slab discovered in Egypt containing hieroglyphics and known as the 'Rosetta Stone of Sicily'. One room is devoted to the marvellous finds unearthed at the temples of Selinunte. There is also an interesting section devoted to underwater archaeology. The museum is not state-of-the-art by any means but it contains some real treasures and the buildings themselves are captivating.
Regrettably, this museum has been closed indefinitely for restoration work since 2011 and no concrete reopening date has been given. If you are travelling in the area it is worth trying to contact the museum to see if it is open.
Address: Piazza Olivella 24, Palermo
Telephone: +39 091 611 6805
Transport: Bus numbers 101, 102, 103, 104 and 107.
Opening times: Open Tuesday to Saturday from 8.30am to 6.15pm, and on Sundays from 9am to 1pm
Admission: €4.50 (adults), €2 (children)