La Lajita Zoo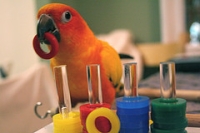 The little fishing village on the east coast of Fuerteventura has been put on the tourist map because it offers one of the island's main attractions, the 'Oasis de Los Camellos' zoo. The zoo is home to a small selection of animals, but the main activities offered are parrot shows, horse rides and camel safaris. While waiting their turn visitors can relax under the palm trees at the zoo's bar, or try out one of a few seafood restaurants that have sprung up in the village.
Address: Ctra. General de Jardia s/n Lalita Pajara
E-mail: reservas@lajitaoasispark.com
Website: www.fuerteventuraoasispark.com/leng.html
Telephone: +34 902 400 434
Transport: Buses 1, 5 and 25 run from Tarajejo, and buses 1, 6 and 10 run from Corralejo.
Opening times: Open daily from 9am to 6pm
Admission: Zoo entrance: €18 (adults); €11 (children 3 to 11). Camel Safari: €10 (adults); €5 (children)