Monastery of Arkádhi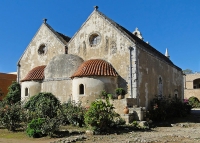 Monastery of Arkadhi © Bernard Gagnon
Situated about 14 miles (23km) south of Rethymnon, the Monastery of Arkádhi is something of a national Cretan shrine. During the 1866 rebellion against the Turks the monastery became a refuge for Cretan insurgents and their families (it was the Cretan Christians who revolted against Turkish rule in the rebellion). They were surrounded by the Turks and after two days of fighting, ignited the gunpowder storeroom, which killed hundreds of both Turks and Cretans. The tragedy brought international recognition to the cause for Cretan independence and those who died in the blast have become celebrated martyr figures. An ossuary displays the skulls of many of the victims and it is possible to see the roofless room where the explosion took place, as well as the surviving 16th-century church that is one of the loveliest Venetian buildings on the island. There is also a small museum which details the history of the monastery and the battle for independence. It is a very interesting, and rather sad, place to explore and gives visitors some valuable insight into Cretan nationalism and history.
Address: 14 miles (23km) south of Rethymnon
Transport: The monastery is easy to reach by public bus.