Lee County Manatee Park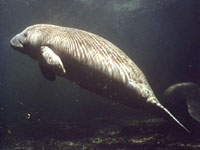 A sighting of an endangered West Indian manatee, a shy and lumbering walrus-like creature whose numbers are dwindling, is a must for visitors to Florida. At the Lee County Manatee Park on the Orange River in eastern Fort Myers these animals can be viewed in their natural habitat from observation decks. The Park also offers information, walking tours and workshops, as well as picnic facilities, a fishing cove with deck and a pier. Kayak and canoe trails are also available.
Address: 10901 State Road 80, Fort Myers
Website: www.leeparks.org
Telephone: (239) 690 5030
Opening times: Daily 8am to sunset.
Admission: Parking $5 per day, kayak rentals $10 per hour.