Edison and Ford Winter Estates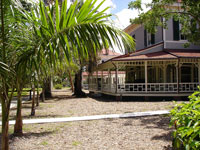 Famous inventor, Thomas Edison, and his friend, automobile magnate Henry Ford, both spent dozens of winters in the city of Fort Myers in the early years of the 20th century. Edison's home is the region's top historic attraction, and has been preserved as it was during his lifetime. The Victorian house called Seminole Lodge still boasts working light bulbs, which he invented. They burn in the laboratory where he worked on more than 1,000 inventions during his winter visits. The house next door, Mangoes, was built by Ford in 1916. Visitors are given guided tours of both houses by costumed guides giving 'living history' accounts. Scenic river rides on board a replica of Edison's electric boat are also offered.
Address: 2350 McGregor Boulevard, Fort Myers
Website: www.efwefla.org
Telephone: (239) 334 7419
Opening times: Daily 9am-5:30pm.
Admission: Estates tour: $20 (adults), $11 (children 6-12). Other options and concessions are available.