South West Florida Museum of History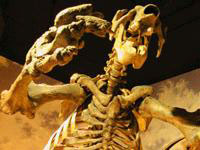 The Museum of History in Fort Myers is housed in the former Atlantic Coastline Railroad depot and chronicles the history of Southwest Florida, from the Paleo Indians through the Calusa, the Seminoles and the Spanish explorers to the early settlers. A pioneer cracker house, a 1926 fire pump and a 1929 Pullman private railroad car are among the exhibits. Pride of place is held by the 'Land of Giants' section depicting the huge animals like mammoths, mastodons and the Bison Antiqus that roamed the area about 12,000 years ago.
Address: 2300 Peck Street, Fort Myers
Website: www.swflmuseumofhistory.com
Telephone: (239) 321 7430
Opening times: Tuesday to Saturday 10am-5pm.
Admission: $9.50 (adults), $5 (children 3-12 and students with valid ID). Other concessions available.