Shell Factory and Nature Park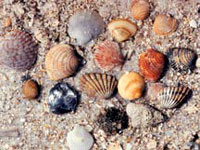 The beaches along this area of the Florida coast are world-renowned for their seashells and the largest collection of shells, fossils, corals and sponges in the world is the focus of a unique family oriented attraction north of Fort Myers. The Shell Factory not only exhibits a fascinating collection, but the 18-acre complex includes shops selling a range of jewellery, ornaments, lamps, objets d'art and glassware. It is even possible to pick your own pearl and have it mounted in gold. The complex includes a petting zoo, wildlife refuge, eco laboratory, a restaurant, game arcade, miniature golf course and boating lake.
Address: 2787 North Tamiami Trail, North Fort Myers
Website: www.shellfactory.com
Telephone: (239) 995 2141
Opening times: Shell factory: Daily 9am-8pm (10am-6pm in winter). Nature Park: Daily 10am-5pm.
Admission: Shell Factory: Free. Nature Park: $12 (adults), $8 (children 4-12). Concessions available.