Black Pearl (Seychelles) LTD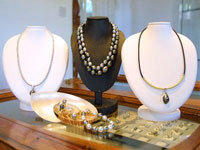 Exquisite black pearls are cultured at the only oyster farm in the Indian Ocean, but that is not all you can investigate at this attraction which, apart from displaying the art of cultivating pearls in the Black Lip Pearl Oyster, also explains the breeding and feeding of the Giant Clam species, Tridacna maxima. The farm features a touch pool and aquarium, and of course the black pearls are on sale in the onsite jewellery store.
Address: Amitié, Praslin (next to the airport)
E-mail: prof@seychelles.net
Telephone: +248 233 987
Opening times: Daily 10am-4pm weekdays, and Saturday 10am-12pm.