George Camille Gallery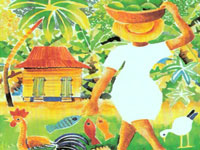 Praslin artist, George Camille, is famed not only locally, but his works have been exhibited extensively in London and Paris. He works in a variety of mediums in an effort to capture the colour and excitement of Creole life. His works may be viewed or bought at his popular studio at Cote d'Or on Praslin Island.
Address: Wavelength, Le Rocher
E-mail: sunstroke@seychelles.net
Website: www.georgecamille.sc
Telephone: +248 344 334
Opening times: Monday to Friday 10am-6pm, Saturdays 10am-1pm.
Admission: Free