Durbar Square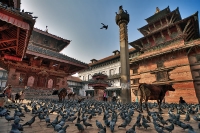 Durbar Square © Alexander Shafir
Protected as a UNESCO World Heritage Site, Durbar Square is the religious and social heart of Kathmandu's old city. Built between the 12th and 18th centuries by the ancient kings of Nepal, it's a complex of palaces, temples, shrines, statues, and courtyards.
The square is a queer assortment of the old and the new: elaborately carved architectural features and curving roofs provide shelter for cows and weary tourists. Brahman priests and painted sadhus perform rituals and pose for photos, while souvenir sellers and rickshaw drivers compete for attention among the crowds.
Stone lions guard the gates to the Old Royal Palace which contains a number of courtyards and houses the Narayanhity Durbar Museum. Set into the palace wall is a 17th-century stone inscription written in 15 languages. It's believed milk will flow from the spout if anyone deciphers the entire inscription.
Opening times: Durbar Square: daily 8am-5pm. Old Royal Palace: Tuesday to Saturday 9:30am-4pm.
Admission: Durbar Square: NPR 1,000. Old Royal Palace and museums: NPR 500.