Swayambhunath Stupa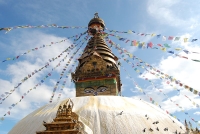 Swayambhu Stupa © Peretz Partensky
Colourful fluttering prayer flags adorns the golden spire of the 5th-century Swayambhu Stupa. It crowns a hill overlooking the Kathmandu Valley and offers fantastic views over the capital city of Kathmandu.
The Swayambhunath Stupa is one of the most recognisable symbols in Nepal, with the painted eyes of the Buddha watching all those who ascend the worn stone steps. A UNESCO World Heritage Site, it is one of the holiest Buddhist sites in Nepal and is at the source of the valley's mythical beginning.
Legend has it that the history of the valley began with the draining of an ancient lake by an Enlightened Being, when a lotus flower was transformed into the hill and the shining light became the stupa itself.
Also called the Monkey Temple, swarms of pilgrims and red-clad monks circle the complex, spinning the prayer wheels while scores of monkeys which give the temple its nickname prance about in irreverent troupes.
The temple complex is scattered with shrines and statues of Buddhist and Hindu deities, and the assortment of pilgrims from both faiths characterises the country's unique religious harmony. Visitors should note that although they are often adorable and entertaining, the monkeys can sometimes become aggressive if you have something they want.
Admission: NPR 200