Royal Chitwan National Park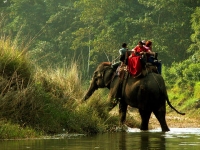 Elephant-back safari © Leonardo C. Fleck
Of the 14 national parks and reserves in Nepal, the Royal Chitwan National Park is the oldest and the most popular safari destination for visitors. Situated in the sub-tropical Tarai lowlands, the jungle is home to endangered animals such as the one-horned rhinoceros and the royal Bengal tiger. Other animals include leopards, wild elephants, Indian bison, sloth bears, crocodiles, pythons, monitor lizards, pangolins, and over 400 species of birds. The terrain is mostly flat, consisting of dense jungle, marsh and grassland; there is no guarantee of good game sightings, so it is best to spend at least two days in the park and to go on multiple game safaris.
There are different ways to explore the park, but elephant-back safaris are the most popular. Jeep safaris, guided walks, overnight jungle expeditions and canoe trips are also available. There is a wide choice of accommodation ranging from luxury camps or hotels within the park, to budget options on the outskirts. The best place to look for budget accommodation is the town of Sauraha which has become something of a tourist centre with hotels, restaurants, bars, travel agents, money changing facilities, shops and even internet cafes. The town has a beautiful setting, sitting on the banks of a wide river in the jungle.
Transport: The Royal Chitwan National Park is an excursion from Kathmandu or Pokhara; it is linked by public bus, tourist coach and air, and is a seven-hour bus journey from Kathmandu or six hours by bus from Pokhara.
Admission: Daily park entry permit: NPR 1,500 (extra charges apply for those wishing to fish, canoe, camp or go on safaris).