Rila Monastery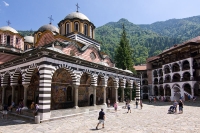 Rila Monastery, Bulgaria © Raggatt2000
The biggest and most famous of Bulgaria's monasteries is situated in the northwestern part of the Rila Mountains and is one of the most significant monuments on the Balkan Peninsula. Rila Monastery was founded by a hermit, St John of Rila, in the 10th century, and eventually became a monastic complex that played an important role in the spiritual history of medieval Bulgaria.
Having survived fire, abandonment and plunder, the monastery fascinates visitors with its exquisite architecture, rich murals and icons and valuable museum collection, including old manuscripts, jewellery, textiles, church treasures and a library containing thousands of books. The Rila Monastery is a UNESCO World Heritage Site and a must-see attraction for anybody visiting Bulgaria.
Photography is not allowed inside the Monastery, and although the monastery does provide shawls to borrow for those who are underdressed, it is best to go prepared in respectful and conservative clothing when you visit this religious site.