Glenbow Museum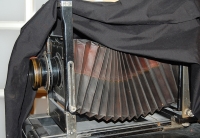 Camera, Glenbow Museum © Rick Goldman
Located in the heart of Calgary, opposite the tower, the Glenbow Museum is Canada's largest museum, with more than 93,000 square feet (8,640 sq metres) of exhibition space, spread over three floors. It houses more than a million objects that fill up its 20 galleries and showcase the colourful history of Canada's West.
Explore the exhibits to discover the people, stories and events that shaped the region from its First Nations to the arrival of the European settlers. There is a family-friendly Discovery Room, which is an open studio full of educational activities and crafts that bring the museum to life. A special feature is the Blackfoot Gallery, which tells the story of the Nitsitapi people through interactive displays, artefacts, a film and circular narrative path. There are also some 28,000 artworks dating from the 19th century to the present on display in the museum. Glenbow's library is a treasure trove of reference materials on western Canada and the Glenbow Archives are a major research centre for historians, writers, students and the media.
Address: 130 9th Avenue SE
Website: www.glenbow.org
Telephone: (403) 268 4100
Opening times: Tuesday to Saturday 9am-5pm; Sunday 12pm-5pm. Closed Monday.
Admission: $16 adults, $10 children, other concessions available.