Tivoli Gardens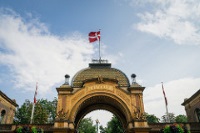 Tivoli Gardens © Benson Kua
The world-renowned Tivoli Gardens in the heart of Copenhagen is one of the world's most thrilling entertainment complexes, drawing about three million visitors during its five-month summer open season each year. Tivoli dates back to 1843 when Copenhagen was still a fortified city surrounded by tall ramparts and a deep moat. Today, the Tivoli Lake is all that remains of the moat, which now reflects the incredible trademark fireworks displays that light the sky over the gardens twice a week. Tivoli is split in two, one section housing the beautiful miniature gardens where more than 100,000 flowers bloom, and the other has the theme park, with arcades and thrill rides. Tivoli also boasts a concert hall and open-air stages where dozens of concerts, pantomimes and circus shows come to life.
Address: Vesterbrogade 3
Website: www.tivoli.dk
Opening times: Open 6 April until 25 September. Open daily at 11am; closing times vary according to season, but usually between 11pm and 12am. See website for details.
Admission: General Admission: DKK 110 (adults and children over 8); children under 8 years free. There are multiple ticket options and attractions like rides cost extra so be sure to consult the website for specific pricing details.