Calgary Zoo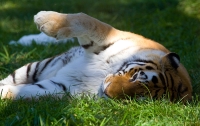 Tiger at Calgary Zoo © Tony Hisgett
Canada's second largest zoo is home to more than 1,000 animals from all over the world, as well as a variety of fish and insects in natural habitat enclosures. It also features a prehistoric park with 19 life-size animatronic dinosaurs on display.
The botanic gardens include a 20,000 square foot (1,858 sq m) conservatory, butterfly garden, and a special Rocky Mountains exhibit featuring many indigenous Alberta animals, including the endangered Whooping Crane. The zoo is situated close to the downtown area, on St George's Island, and is a wonderful treat for the whole family.
Address: 210 St. George's Drive North East
Website: www.calgaryzoo.com
Telephone: (403) 232 9300
Opening times: Daily 9am-5pm
Admission: $34.95 adults, $24.95 children, other concessions available.