Copenhagen Historical Museums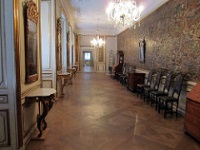 Prince's Palace © Heidi De Vries
The rich history of Denmark, from Viking days through to the World War II resistance movement, is encapsulated in fascinating collections of artefacts housed in a series of museums in and around Copenhagen. The Prince's Palace in the city centre houses the National Museum covering Danish history in general and a collection of international antiquities. The open air museum a few miles north of the city makes for a fascinating excursion with its 100 or so historic buildings, most relocated from elsewhere in the country, set out to illustrate what life was like in rural Denmark in days of yore. Visitors can get up to date on the history of the city itself in the Copenhagen City Museum, housed in the Royal Shooting Society's palace dating from 1787.
Address: The Copenhagen City Museum, Vesterbrogade 59. The National Museum, Ny Vestergade 10. Open Air Museum, Kongevejen 100
Opening times: Copenhagen City Museum: 10am to 5pm daily. National Museum: Tuesday to Sunday 10am to 5pm. Open Air Museum: Tuesday to Sunday 10am to 4pm (May to October).
Admission: Copenhagen City Museum: DKK 20 (adults), children under 18 free; Fridays free for all. National Museum: Free. Open Air Museum: Free.