Setúbal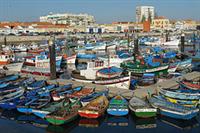 Setubal © Osvaldo Gago
A popular touring destination around 31 miles (49.6km) south of Lisbon is Setúbal, one of Portugal's oldest cities. It is renowned for producing the most delicious muscadel wine in the world. Setúbal is also the capital of Portugal's sardine industry and has been a fish-salting centre since the 1st century. White mounds of sea salt drying in the sun are a familiar part of the local landscape.
Tourism, based on the beautiful existing natural conditions plus excellent hotels, resorts and infrastructures, is one of the city's best resources. This is due to its interconnecting location with Sado River on one side and Atlantic Ocean on another, sharing a coastline with both. It is also connected to the nearby shores of the Nature Park of Arrábida. The park offers unspoilt nature and beautiful beaches. If one is lucky, you may even spot the dolphin colony, which inhabits the Sado River.
There are also some outstanding beaches near the city and as well as a countryside dotted with orange groves, orchards and vineyards.