Royal Djurgården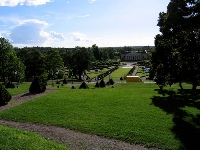 Royal Djurgarden © hildgrim
Stockholm's main attractions are conveniently packaged close to the heart of the city on the island of Djurgården, crammed with entertainment options, museums, restaurants and wooded green space. Once upon a time the island was a royal hunting ground. Now visitors can hunt for souvenirs at the Handarbetets Vanner (handicraft centre); browse the art galleries; enjoy the exciting Gröna Lund amusement park; explore Sweden's past at the Skansen open-air museum; meet Nordic wildlife at the zoo; and watch folk dancing.
Also on the island, accessed by a pleasant stroll along the waterfront, is the Junibacken fairy-tale fun centre, the National Museum of Cultural History, and the fascinating Vasa Museum featuring a fully rigged, fully restored 17th-century galleon raised from Stockholm harbour. Top off the day with a meal at one of the many excellent restaurants, some of which are situated on boats and provide excellent views over the water. Djurgården is one of Sweden's most loved recreational areas for locals and foreigners and the island attracts more than 10 million touristic visitors a year. Just a stroll around the island, on the many walking paths, nature trails and waterfront promenades, is a joy.
Address: A 10-minute walk from the city centre across the Djurgarden bridge.