Royal Palace and Gamla Stan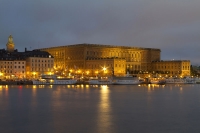 Royal Palace, Stockholm © Brorsson
The official Swedish royal residence is one of the largest and grandest palaces in Europe, dating back to 1754 (although it was built on the remains of an earlier medieval castle). The Baroque edifice is in the heart of Gamla Stan, the old city, and many of its 608 state rooms are open to the public all year round. Visitors can admire the Hall of State, the Royal Treasury, the Apartment of the Orders of Chivalry, the Gustav III Museum of Antiquities, the Kronor Museum, and the Royal Chapel. In front of the palace the changing of the guard ceremony takes place (Wednesday and Saturday 12:15pm; Sunday 1:15pm) with splendid pomp and ceremony that rivals the similar tradition played out at Britain's Buckingham Palace. Visitors should note that the palace is used for most of the Swedish monarchy's official ceremonies and receptions and closes to the public during these events - check the calendar on the official website to avoid disappointment.
Gamla Stan itself is a treasure trove of Swedish architecture, much of which dates from the 17th century. Today tourists throng the alleyways once notorious for brothels, but now lined with shops and restaurants, peddling up cutting edge designs and traditional swedish fika. Other attractions in Gamla Stan include: The Nobel Museum, which offers a moving account of one of the world's most coveted prize in literature, economics, chemistry, physics, and medicine; the Royal Coin Cabinet, a museum dedicated to the history of money which contains some fascinating ancient artefacts; and Stortorget, the oldest square in Stockholm, from which the current city grew, where visitors can marvel at street performers and the iconic, multi-coloured building facades for which the square is famous.
Address: Slottsbacken 1, Gamla Stan.
E-mail: info.stockholms-slott@royalcourt.se
Website: www.royalcourt.se
Telephone: +46 8 402 6000
Transport: Metro stop Gamla Stan, or bus 2, 43, 55, 71 or 76 to Slottsbacken station
Opening times: Open daily 10am-5pm (14 May to 25 September), Tuesday to Sunday 10-4pm (26 September to 13 May). Royal Apartments may close fully or partly in conjunction with official receptions of His Majesty The King.
Admission: Combined ticket for the whole palace: SEK 160 (adults), SEK 80 (children aged 7 to 17 and students).