Stockholm City Hall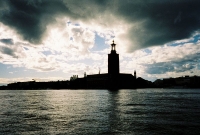 Stockholm City Hall, Sweden © Christopher J. Martin
Stockholm's main landmark, the distinctive red brick City Hall (Stadshuset) building, has stood on Kungsholmen (King's Island) since 1923 and become world-renowned as the venue for the annual Nobel Prize Banquet. A visit to Stockholm's City Hall is a must for architecture lovers: the rather practical and austere façade, dominated by three golden crowns atop a tower, hides an extraordinary Art Nouveau interior. The plush council chamber itself has a vaulted ceiling resembling an inverted Viking longboat, echoing the Viking tradition of using overturned vessels as shelter in winter. Most impressive, though, is the magnificent Golden Hall, its walls covered with handmade mosaics. The view of Stockholm from the tower is unsurpassed.
The Stockholm City Hall can only be visited on a guided tour, which can be done by joining one of the public tours that depart every day, or by arranging a private tour. Accredited guides can also bring groups into the City Hall for tours. The public tours last about 45 minutes; private tours can explore at their own pace. Tours should be booked in advance by phone or email. There is also a glorious luxury restaurant at the site. Don't be fooled by the exterior, the City Hall is a must for tourists!
Address: Hantverkargatan 1
Website: www.stockholm.se/cityhall
Transport: Underground station T-Centralen/T-Rådhuset, or bus 48 and 62
Opening times: Tours are available every day and should be booked in advance.
Admission: Guided tours cost between SEK 70 and SEK 100 for adults, depending on the season. Concessions are available.