Fort Calgary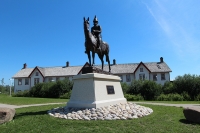 Fort Calgary © davebloggs007
This historical site chronicles Calgary's history between 1875 and the 1940s, allowing visitors to step back in time and explore the early days of the city through interactive exhibits, costumed interpreters, hands on activities, guided tours, and an entertaining audio-visual presentation.
Fort Calgary is situated on the site of an original North West Mounted Police Fort and is designed to preserve the history of the founding, development, and growth of the city. The 40-acre riverside park includes the reconstructed 1875 fort, 1888 barracks, the interpretive centre, and Deane House Historic Site and Restaurant.
Address: 750 - 9th Avenue SE
Website: www.fortcalgary.com
Telephone: (403) 290 1875
Opening times: Daily 9am-5pm
Admission: $12 adults, $7 children, other concessions available.