Roman Theatre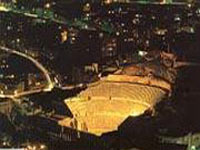 Roman amphitheatre, Amman © Jordan Tourism
Below the Citadel is the magnificent Roman amphitheatre, an impressive relic from ancient Philadelphia that is cut into the hill and can seat up to 6,000 people. The theatre is still used occasionally for events today. Two cultural museums form part of the complex: the Jordan Folklore Museum, which has exhibits on traditional life, and the Museum of Popular Traditions with traditional costumes and mosaics from 4th to 6th century Jordan churches.
Address: Quraysh Street, Downtown
Opening times: Jordan Folklore Museum and Museum of Popular Traditions: daily 9am-5pm.
Admission: JOD 1