Desert Castle Loop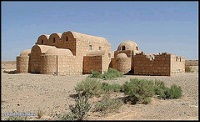 Stretching to the east of Amman towards Saudi Arabia and Iraq is the vast desert plain where a cluster of historic ruins such as castles, forts, baths and palaces have been preserved and are collectively known as the Desert Castles. Their purpose is largely unknown, but most are thought to have been built as recreational retreats by the Umayyad caliphs during the early Islamic Period (7th to 8th centuries AD).
Qasr Mushatta is the biggest and most elaborate of the castles, a fine example of Umayyad architecture despite never being completed. The best preserved and most enchanting is the luxurious bathhouse of Qusayr 'Amra, with its domed ceiling and colourful interior frescoes and mosaics, it's also a UNESCO World Heritage Site.
Other desert castles include the black rock fortress at Azraq, which was the desert headquarters of Lawrence of Arabia during the Great Arab Revolt in 1917, the mysterious Qasr al-Kharrana, Qasr al-Hallabat's crumbling remains and the well-preserved complex at Qastal.
Transport: Most of the castles can be visited on a day trip from Amman via Azraq by using a variety of public buses and minibuses combined with hitching or walking, although it is easier and less time consuming to hire a car or a taxi for the day; hotels can arrange drivers who know the way and speak English