The Dead Sea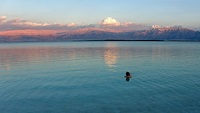 Dead Sea © Pieter van Marion
Situated about 28 miles (45km) from Amman, lies the famous attraction of the Dead Sea, the lowest point on earth at 1,335 feet (407m) below sea level. Devoid of plant or animal life due to the high salt concentration (four times saltier than normal), it is the incredible mineral rich water that has made it an internationally sought-after destination since ancient times, popular for its curative properties as well as for the experience of floating effortlessly on its surface.
Most holidaymakers go to the main resort area on the northern shore at Sweimeh, where the Government Rest House provides showers, a restaurant, a beach and the opportunity to smother oneself in the mineral-rich black mud. Accommodation is available at the Dead Sea Spa Hotel, where various medical treatments are also on offer.
Transport: Buses leave from Muhajrin station to the Government Rest House at Sweimeh.