Wadi Rum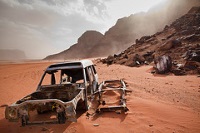 Wadi Rum © Eric Montfort
Lying 42 miles (68km) north of Aqaba, the scenery of Wadi Rum is acclaimed as one of the most stunningly beautiful desert landscapes in the world and is a major tourist destination in Jordan. Towering mountains of weathered sandstone rise vertically from the pink desert sands where the vast emptiness and silence is takes the breath away. There are many ways to explore the vast desert interior where the likes of Lawrence of Arabia once rode. Serious mountaineers and climbers relish the challenge of its high peaks, particularly the highest in the area, Jabal Rum, and the remarkable Rock Bridge, while hikers can enjoy the grandeur of the interior by walking out into the wilderness and camping alone under the stars. Camel trips and 4x4 vehicle tours can also be arranged from the Government Rest House. Wadi Rum is home to several nomadic Bedouin families who are famous for their hospitality, and visitors are often invited to share mint tea with them inside their goat-hair tents or beside the fire under the starry sky.
Website: www.wadirum.jo
Transport: Buses are available along the Desert Highway to the turnoff, but public transport to the village of Rum is difficult so it is best to arrange a car. An infrequent bus service operates from Aqaba to the Government Rest House at Wadi.