Suomenlinna Fortress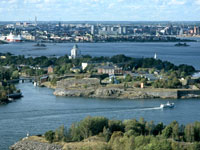 Suomenlinna Fortress © City of Helsinki - Boy Hulden
The historically significant Suomenlinna fortress is not only a major military monument worthy of the UNESCO World Heritage List, but also home to about 900 Finns who live in the renovated barracks. The entire site is a fun, multi-faceted attraction for Helsinki residents and visitors. The fortress, built during Swedish rule in the 18th century, is situated on an island at the entrance to Helsinki's harbour. The fortification became a strategic military shipyard with one of the biggest dry docks in the world, comparable to the fortress at Gibraltar. Apart from admiring the architecture there is plenty to experience at Suomenlinna, which contains seven museums, galleries, restaurants and cafes, several parks, beaches and nature areas. Guided walking tours are offered and there are always events taking place like exhibitions, jazz shows and theatrical performances, particularly during summer.
Address: The Visitor's Centre is at Suomenlinna C 74, situated in the middle of the fortress at Tykistölahti bay
Website: www.suomenlinna.fi
Telephone: Tourist Information desk: (0)9 684 1880 or Visitor's Centre: (0)9 4050 9691
Transport: Ferries run regularly from Market Square, from 6am to 2am. During summer a water bus also operates. Private boats can moor at the Suomenlinna visitor's marina.
Opening times: The various museums usually open between 10am/11am and 5pm/6pm daily with shorter hours in winter. For information regarding the various events and exhibitions contact the Visitor's Centre which is open 10am to 4pm, and until 6pm between May and September. Or check the website for details.
Admission: Museums charge between €3 and €5 admission.