Senate Square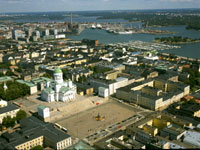 Aerial view of Senate Square, Helsinki © City of Helsinki - Suomen Ilmakuva Oy
Architecture buffs will enjoy sitting in a café admiring the buildings surrounding Helsinki's lively Senate Square, renowned as Europe's finest examples of the neoclassical style. In fact, you don't need to have any knowledge or appreciation of architecture to enjoy sitting in this lovely square which has a great atmosphere and is one of the central meeting places of the city. The square is dominated by the city's main landmark, the Lutheran Cathedral, designed by Carl Ludwig Engel and consecrated in 1852. The interior is as perfect as the exterior design, and is open to the public daily for no charge. Other buildings on the Square designed by Engel are the Palace of the Council of State, built in 1822, and the University buildings (1832), including the library, regarded as Engel's finest masterpiece. The square is a thrilling place to be on New Year's Eve as this is where the locals come to celebrate with singing, dancing and brilliant fireworks displays. There are bus and walking tours of Helsinki departing from the square, which is a good starting point for exploration of the city.
Telephone: Cathedral: (0)9 709 2455
Transport: Tram 1, 2, 3B or 3T
Opening times: June to August daily 9am to midnight; September to May Monday to Saturday 9am to 6pm, Sunday 12pm to 6pm.
Admission: Free