Uspenski Cathedral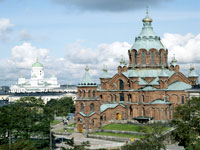 Uspenski Cathedral © City of Helsinki - Matti Tirri
Many travellers have compared Helsinki to the beautiful Russian city of St Petersburg (a close neighbour across a short strait of water), and the exotic red-brick Orthodox cathedral Uspenski, designed by Aleksei Gornostayev of St Petersburg in the late 1800s, cements the Russian connection. The cathedral sits atop a rocky outcrop on the Katajanokka peninsula opposite the fish market, fronted by a statue of Tsar Alexander II, as a memento of Russia's occupation of Finland until 1919. The magnificent Byzantine edifice is topped with a characteristic golden onion dome, and the interior is opulently decorated with valuable icons. The cathedral is beautifully situated and very eye-catching; it looks out over much of the city and from much of the city you can look back at it. There are wonderful views of Helsinki from the hill. Parts of the church are off-limits when there is not a service being conducted but there is still plenty to see in this ornate cathedral. Flash photography is not allowed inside but if you are respectful about it you can take pictures without a flash.
Address: Unioninkatu 39 A 19, Katajanokka
Telephone: (0)9 634 267
Transport: Tram 4
Opening times: Monday to Friday 9.30am to 4pm (closed on Mondays from October to April); Saturday 9.30am to 2pm; Sunday 12pm to 3pm.
Admission: Free