Market Square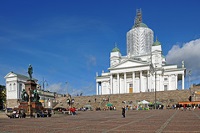 Market Square © Dennis Jarvis
The Market Square in Helsinki, known locally as Kauppatori, is the central meeting point of the city. The space is sandwiched between the sea and a row of impressive historic buildings which include the City Hall, the Swedish Embassy and the Presidential Palace. Trams and waterbuses converge on the square, where visitors gather to watch the changing of the bulkily clad guard at the Palace and admire the Havis Amanda mermaid statue at the west end of the Square in front of Esplanade Park.
There is a longstanding tradition of displaying old American cars in the square on the first Friday of every month, which is fun for car enthusiasts. The square is also a departure point for the ferries that travel to Suomenlinna, and it is possible to hire private vessels for sailing trips out to other nearby islands in summer.
Every year in October the Baltic Herring Festival, the oldest recurring festival in Helsinki, sets up in the square and this is a particularly great time to visit as lots of food and craft stalls spring up and, of course, there is plenty of herring to sample.
Seagulls have become something of a menace in the Market Square, swooping down to snatch food of all kinds from the hands of unsuspecting tourists.