Temppeliaukio Church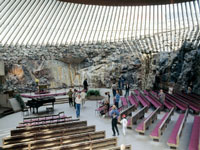 Rock Church interior, Helsinki © City of Helsinki - Matti Tirri
This awesome and unique piece of architecture, the Temppeliaukio ('Church in the rock') was designed by brothers Timo and Tuomo Suomalainen and carved out of solid granite as recently as 1969. It has become one of Helsinki's most famous attractions, its rock walls roofed over with a massive concave copper ceiling, which gives it excellent acoustics and makes the roof seem like an enormous sun. Although it is not very impressive from the outside - it still feels like part of the rock that surrounds it - the interior is magnificent and quite the opposite of the dark, cave-like place you would expect when looking at the rock-hewn building. It is an unusual place of worship but clearly a spiritual attraction and no matter what your beliefs this artistic church will surprise and perhaps inspire you. The church is often used as a venue for musical events due to its wonderful acoustics and there are sometimes piano recitals in the afternoons; if you visit during one of these performances you can leave a donation to show your appreciation. English services are conducted on Sundays at 2pm.
Address: Lutherinkatu 3
Telephone: (0)9 494 698
Transport: Tram 3T
Opening times: June to August: Monday to Saturday 10am to 5:45pm, Sunday 11:45am to 5:45pm. September to May: Monday to Saturday 10am to 5pm, Sunday 11:45am to 5pm.
Admission: Free