Seurasaari Open Air Museum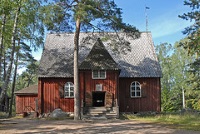 Seurasaari © Jean-Pierre Dalbéra
The Seurasaari Open-Air Museum allows visitors to step back in time and glimpse the traditional way of life in the Finnish countryside, and all this in the heart of the capital city, Helsinki. Situated on a lovely green island accessed from the mainland via a footbridge, the museum consists of a collection of cottages, farmsteads, rural churches, manor houses, and other old buildings, all preserved and relocated from their original sites around the provinces of Finland. The 87 buildings currently on the museum site have been arranged to form a complete replica of a country district, reflecting what life was like in various levels of rural society between the 18th and 20th centuries.
Address: Seurasaari Island
Website: www.nba.fi/en/seurasaari_openairmuseum
Transport: By bus and car.
Opening times: Monday to Friday 9am-3pm, Saturday to Sunday 11am-5pm mid-May to mid-October.
Admission: EUR 9 June to August, EUR 6 May, September and October. Concessions available.